We have bold ambitions. Be part of our journey
We never stand still. We are an award-winning technology solutions provider that's on a mission to dominate the market. Being part of SysGroup means joining an energised team, united in our enthusiasm, ambition and commitment to excellence.
With an enviable client portfolio, cutting-edge tech solutions and a network of world-leading partners, we attract new business every day. So, we're always looking for talented individuals to help shape our future success.
View current opportunities
Our team spirit sparks innovation and drives our success
Our people are what makes us special, and each member of our team has an important role to play in achieving our goals. We are dynamic, innovative, passionate and proactive. We work hard, we work together and we support each other, fostering a fast-paced environment that inspires and empowers. And no matter what office we're based at, we always feel like one big team and thrive off our daily interactions.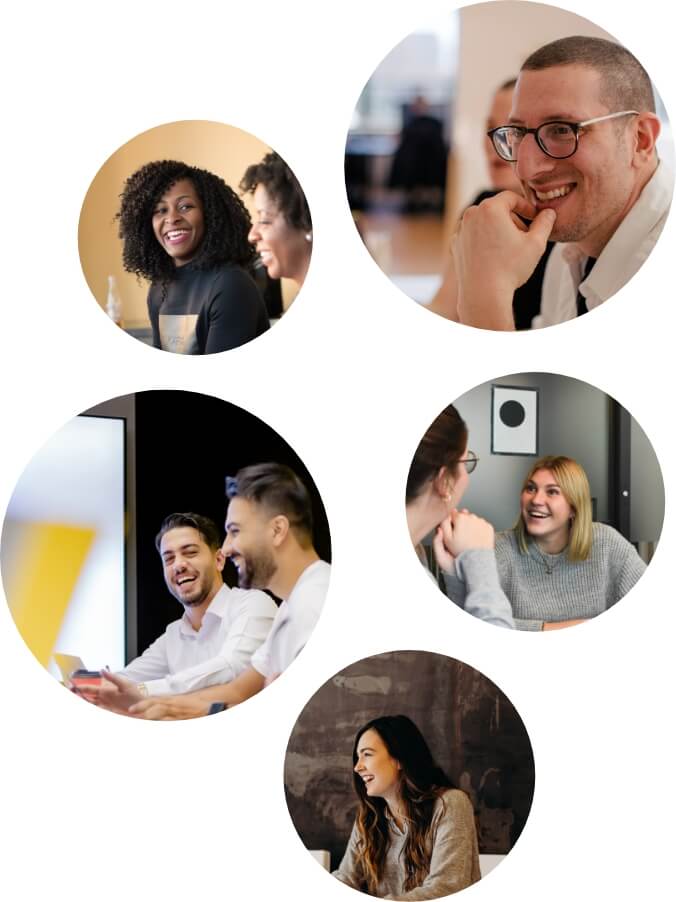 Moving from a much larger company, I was nervous about how I'd settle into such a fast-growing environment, but after five years I haven't looked back! My journey from People and Culture Advisor to Senior People Partner is something I'm really proud of. And despite a massive increase in headcount through acquisitions and organic growth, we have managed to retain our culture and ensure that every individual is seen as a person, not a number.
Naomi Holmes
Senior People Partner, Liverpool
Only a few months into my time at SysGroup, I have learnt an incredible amount. The support of the team has been invaluable. In times of need, people rally around to get the job done and find the best solutions for our customers. The opportunity to work on a variety of challenges, be empowered to take ownership of my role, and constantly improve my knowledge and skills has been really refreshing.
Aaron Barker
Technical Analyst, Newport
My experience at SysGroup has been nothing short of transformative. From day one, I felt like a valued member of the team, and I am constantly inspired by the talented and supportive individuals around me. Working here has allowed me to grow exponentially in my field of design and marketing. With the guidance and motivation of my manager, I have been encouraged to think outside the box and push the boundaries of what I thought was possible. I feel very fortunate to be part of such a dynamic and forward-thinking organisation that has given me a challenging and rewarding career.
Vincenzo Sabotti
Marketing Design and Communications Executive, Manchester
Being one of the first members into a brand new office was a completely new experience, but the support from day one was great. With a flat management structure, I found myself sitting with the CFO and CEO in week one which was a great opportunity for me and a sign of things to come. As with every role, it has its challenges, but everyone pulls in the same direction which makes life much easier. It is a great team and I love being part of it!
Jack Bennett
Head of Inside Sales, Manchester
Since joining the procurement team at SysGroup, I have found it to be a supportive and dynamic workplace that values individuality and encourages personal and professional growth. The team is truly passionate about their work, and I have had the opportunity to collaborate with some amazing people. I appreciate the company's focus on providing a positive work environment, which includes regular team building events and open communication channels. I am proud to be a part of the SysGroup community, and I am excited to see how the company continues to grow and evolve.
Simon Martin
Procurement Executive, Newport
Moving from support to the projects and infrastructure side of IT can be a big jump, but here I have been given the confidence and belief in myself to glide into it easily. From day one I got stuck into some projects where I could plan and manage everything myself but also have the tools and people around to help when I ever need it. It's a perfect place to learn, improve and thrive.
Jon Candy
Project Engineer, Bristol
I joined the company almost four years ago for a change of career. Since then, I have progressed from 1st line to 3rd line support, which is a big personal achievement. Working here has also allowed me to expand my technical knowledge and confidence in working with others across the company and supporting clients.
Jon Bewley
Senior Helpdesk Analyst, Bristol
While searching for my next role, finding a company with a positive culture at its core was crucial, and as soon as I interviewed at SysGroup, I knew this was the place for me. The company is great at celebrating its people and making everyone feel heard, both professionally and socially. From having culture advocates in each office, to developing individuals' skillsets, the company and the senior team have a genuine passion to ensure everyone feels valued.
Rebecca King
Talent Acquisition Partner, Liverpool
I've been here for just over six months now, and it has indeed been a very enriching experience for me. This is an organisation that offers opportunities for everyone to grow both professionally and personally. My manager is approachable, honest, supportive and always encourages me to stay up-to-date with the newest tech innovations. With offices across the UK, we also get to visit and interact with colleagues from different locations, nationalities and cultural backgrounds, and we stay connected through regular wellbeing and social events.
Joel Thomas
Project Engineer, Bristol

Our offering

Meaningful wellness support

Specialist training and development

Opportunities to make an impact
Our values
Our values are the behaviours that drive us forward to achieve our vision.
Everyone here lives and breathes these values every day, and that's what makes us such a great team.
If this sounds like you, take a look at our current opportunities and let us know.
View current opportunities

Love what you do
Our people are completely invested in their roles. We are committed to our team, our colleagues, and the success of our business. We approach every challenge with energy, tenacity and adaptability, inspiring both colleagues and customers.

Work smart and together
Our organisation is fast-paced and dynamic, and so are our people. We encourage ideas and innovation, working together to get things done as efficiently as possible. We are often pushed outside of our comfort zone, which is where great things can happen.

Own it
We take ownership and accountability for our actions, and we relish the opportunity to tackle new challenges head-on. We aren't tied to processes and rules, instead we use our own judgement and challenge the status quo to deliver the best outcomes.

Delight your customer
Customers are at the heart of everything we do. Our strong partnerships and excellent reputation with our customers is the foundation of our company's success, and we achieve this by seeking to delight with every project, and in every interaction.

Be bold and deliver
Our people are sharp, agile, and insightful. Suggestions are always welcome, and when someone has a brilliant idea, we work together to bring it to life and create impact.

Our technology experts
Our project delivery experts are some of the best in the industry, working on the front-line with our customers to deliver advanced technology solutions. Being part of this team means having the flexibility to carry out site visits, working with industry leading hardware and software and staying up-to-date with the latest tech trends.

Our problem solvers
Our close-knit service desk team work together to solve problems on a daily basis, using their deep knowledge to help address any technical issues that our clients come across. Joining this passionate team puts you at the forefront of technology support, working alongside some of the world's largest brands.

Our sales gurus
Our fast-paced technical sales team are the driving force behind the business. They are given in-depth training from our industry-leading vendor partners and leverage their knowledge and skills to advise our clients on the right solutions for their needs. Joining this team means playing an essential role in achieving our overall vision.
View current opportunities